Command Ops 2: The Factory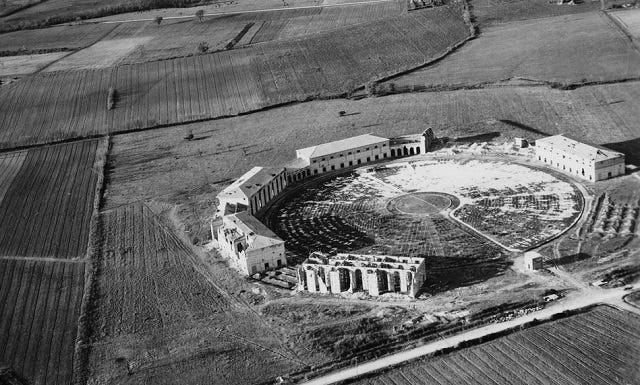 Historical Scenario:
11:00 Hrs, Sept. 11, 1943
The 179th Regimental Combat Team of the 45th US 'Thunderbird' infantry division is pushing for the vital Ponte Sele bridge, 7kms from the American beachhead at Paestum. Seizing the bridge will prevent the Germans from reinforcing the units opposing the American sector of the landings.
German strength in the area is unknown.
Col Hutchins of the 179th RCT makes the decision to bypass the German forces at Persano and push on for the bridge. A few hours later 179 RCT finds itself cutoff as German counterattacks to their rear and front intensify. The strong counterattacks sever the 2nd Bn, 179 RCT from the main body of the RCT, and trap the remainder of the regiment midway between Ponte Sele and Persano.
To make matters worse for the Thunderbirds, the parallel force on the northern side of the Sele River, the 157th RCT, find themselves exposed to heavy artillery fire and blocked from the vital Sele river bridge that was to link the 179th RCT with the 157th RCT, by the formidable Tobacco Factory which is firmly in German hands.
This scenario details the fight to capture the Tobacco Factory, seize the bridge over the Sele, and link the two arms of the advancing American force.
Reinforcement Schedules and Unit counts:
43 Axis units
47 Allied units
The Favor Axis reinforcement schedule adds the 29th PzG Div reconnaissance battalion to the German order of battle. One of the few units that was not heavily engaged in the area.
There are two Favor Allies reinforcement schedules. The 'Favor Allies' schedule corrects a logistical issue that plagued the Salerno landings - lack of landing craft. Eliminating the shortage, which caused reinforcements to stagger over a period of days, gives VI Corps available armor reinforcements much sooner.
The 'Favor Allies-2/179' reinforcement schedule gives the Allied commander the 2nd Battalion, 179th RCT as a reinforcement. This unit is a no-show for the historical schedule. This battalion was trapped on the north side of the Sele closer to Ponte Sele and did not participate in this battle.
The 45th Inf Division's third RCT was not available during this battle as a reinforcement, as it was still afloat in the harbor waiting to disembark from its troopships.
Historical notes:
The Germans have air superiority as the airfield at Montecorvino which British forces have captured, is unusable and vulnerable to shelling. Allied air support has to fly from Sicily and Malta, whereas German air support is relying on airbases much closer to the battle.
Historically the Tobacco Factory at Fiocche changed hands many times and was one of the bloodier battles in the American zone. Like the 36th Inf Div at Altavilla, two days later, the 179th RCT of the 45th Inf Div overextends and is nearly cut off and destroyed on the southern side of the river.
DOWNLOAD THE SCENARIO, ESTAB FILE, MAP ON STEAM HERE
DOWNLOAD THE SCENARIO AND ESTAB FILE FROM DROPBOX HERE